Twitter Lists is a new feature Twitter recently rolled out that enables users to sort their favorite Twitter accounts into topically organized lists.  As a Twitter user you can create any type of list from funny people to motor-sports personalities and everything in between.
Lists add more value to the Twitter experience by allowing users to better organize information on Twitter.  A Twitter List is public by default (but you can make it private) and it is linked from your account (i.e. twitter.com/username/listname).  In this way, public Twitter Lists increase the discovery of unique and interesting Twitter accounts.
Big brands such as Whole Foods use lists to raise awareness of their individual stores' Twitter accounts.  Whole Foods currently has 12 separate lists.  One list contains all the stores' Twitter accounts and the rest are broken down into geographic regions.  This allows Twitter users to be able to quickly find Whole Foods stores' accounts that are closest to them.  It also allows Whole Foods to be able to see whats going on with all its stores' Twitter accounts with just a few clicks.  Franchisors can use lists in a similar fashion.
Why should I create a Franchisee Twitter List?
Creating a Twitter List of all your franchisees currently on Twitter enables you to:
Monitor each franchisee's tweets to ensure that they maintaining a consistent brand message
Quickly spot and respond to an unhappy franchisee venting anger through Twitter
Drive your Twitter followers to your franchisees' accounts to increase their reach within their local Twitter community
Ensure that all franchisee marketing and promotional tweets are in line with franchise policy
Once you create a list of your franchisees, you can see what all of them are up to with a single click.
How to create a Franchisee Twitter List
To create a list, click the "new list" link located in the sidebar of your twitter account.
Give the list a name, the name you choose will be the URL for the list (ex. twitter.com/alliemims/my-zees).  Then choose to make the list either public or private.  You can always change this later.  Then click Create list.
Congratulations.  You created a Twitter List, now we need to add your franchisees.  If you only have a few franchisees currently using Twitter, then it may be easiest to simply enter their user-names in the search box.  Otherwise, click the "following" link to go to your follow page.
From here you can add each franchisee to your new list with just a couple of clicks.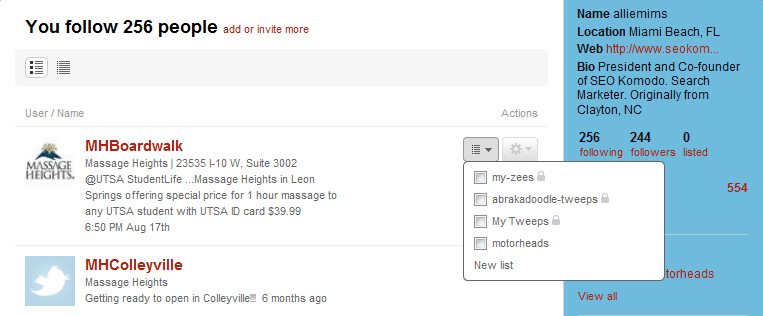 To the right of each franchisee account you will see two drop-down buttons.  Click the list drop-down button and click the check box beside your franchisee list.  Viola! Now that franchisee is in your Twitter List.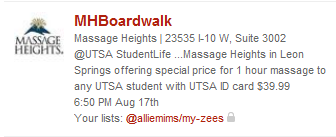 Now just repeat the process with the rest of your franchisees' accounts and you will have a complete Franchisee Twitter List.  To access the list later, simply click on the list's URL located in the sidebar of your Twitter account.
Take a look at the list I made of Abrakadoodle franchise Twitter accounts.
At this point I'd like to suggest that you periodically perform a search of Twitter to make sure that you are following all your franchisees as they join Twitter.  Start by clicking the "Find People" link and enter your brand name.  Click the follow button on each of the franchisee accounts that you aren't currently following.
TweetBeep is a helpful tool, not only for finding franchisees, but also for finding Twitter users who are fans of your brand, product, or service.  TweetBeep allows you to keep track of conversations that mention your brand, your products, your services, anything, with hourly email updates.  You can even keep track of who's tweeting your website or blog, even if they use a shortened URL like bit.ly or is.gd.
I hope this post helps you with managing your brand image and presence on Twitter.  Do you use Lists in some other way to help market your franchise or small business on Twitter?  Please share with us in the comment section.